MORE PLAYS, MORE YAYS
Fun is easy with All You Can Play. You set the time, they play every game, any day. Or make it a celebration with one of our kids birthday parties.
Tap For Fun
Grab Chuck E.'s Play Pass® or Play Band for non-stop fun! Load them with All You Can Play time or Play Points, and simply tap for a more touchless experience. Both are easily reloadable, making it easy for your kid to play and keep track of their game play and E-Tickets.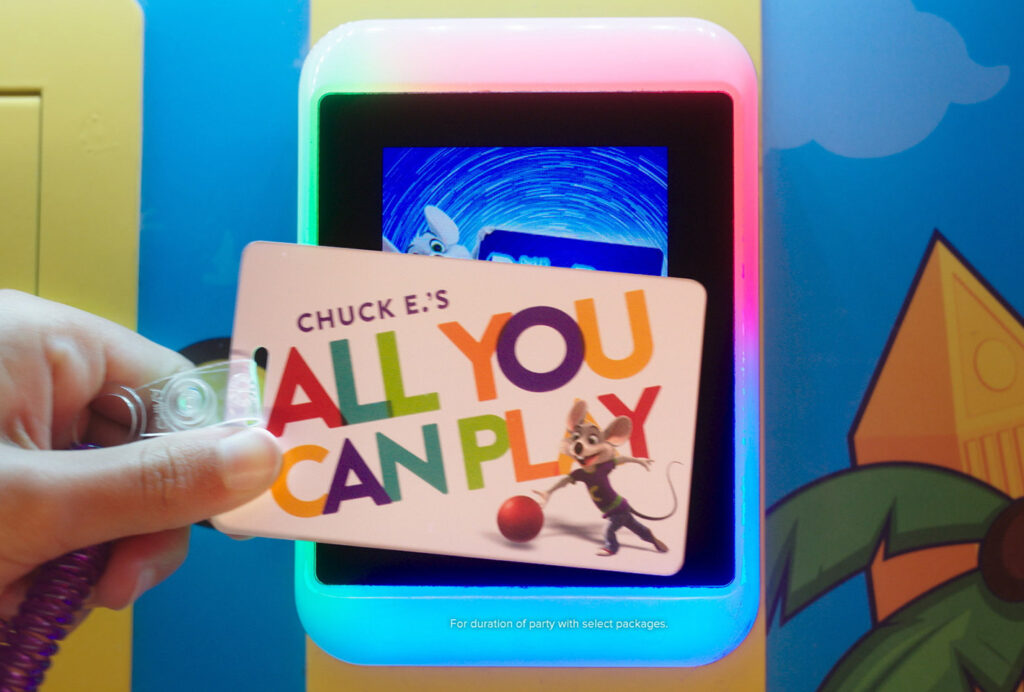 Three Ways To Activate Your Play
Each option includes 3 Play Points or Minutes – your choice!
$1 Chuck E.'s Play Pass® only
$3 Chuck E.'s Play Pass® card with coil wrist band
$5 Rechargeable Play Band
Play Games
Level up your gaming experience at our epic arcade. From high-tech video games to skill games and everything in between, we've got games for every age and interest.
Win E-tickets for prizes
More play means more prizes! When you play games, E-Tickets are automatically saved on your Play Pass® or Play Band that are redeemable for awesome prizes at our Gift Shop.
NEW! Trampoline Zone
Embark on a thrilling adventure at Chuck E. Cheese's Trampoline Zones! Tailored for the little ones, these dedicated spaces ensure a secure and joyful haven for bouncing and playful exploration. Check the list below to see if there's a trampoline zone in the location near you.
We've Got The Games
Every Chuck E. Cheese location has different games so the fun never ends! Here are some types of games you can expect to find during your visit.
Safety Is The Name Of The Game
When it comes to safety, we never hit pause. With security measures like Kid Check® and extensive health precautions for Covid, you can rest assured knowing that your kids' well-being is our top priority.