See Local Deals by Choosing Your Location
ALL YOU CAN PLAY – ANY DAY
Our best offer never expires! Get up to 100 game plays per hour with 70 games* for one low price.
YOUR BIRTHDAY KID IS FREE
Host your kids birthday party with 12 or more paid guests (min. of 13 children) and the Birthday Kid parties for FREE! Don't miss this limited-time offer! See promo details.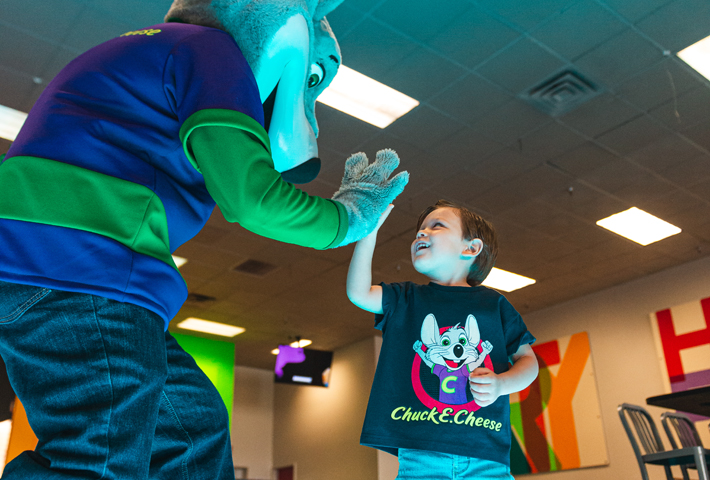 Chuck E. Cheese Shop
Limited Time Offer: Spend $35 or more & save $10 with code 10OFF35. Valid through 9/23/23.
Everyday Game Savings
Receive 10% off any games package with the purchase of any food and beverage combo. Game on!
Must purchase Value Deal #1-5 to receive games discounts. Activation of new play card/play band not included. Cannot be combined with any other promotional offer. Valid only at participating locations.
Two For Tuesdays
We're making Tuesdays terrific! Enjoy two large, 1-topping pizzas starting at $22.
Mention "Two for Tuesday" upon ordering. Available for dine-in & carry-out only. Prices may vary by location ($25 at select U.S. locations and $30 for Canada). Valid only at participating locations.
All You Can Play Wednesday
Don't stop the fun! Get 1 hour of unlimited play EVERY Wednesday for the special price of $17.99 (Canada locations $20.99).
Mention "All You Can Play Wednesday" at time of purchase. Activation of new play card/band not included. Valid only at participating locations.
Carry-Out & Delivery Specials
Enjoy your family's favorite pizza and additional Chuck E. Cheese menu items including our Family Fun Pack and At-Home Party Pack!
*When you order directly through chuckecheese.com. See your location for participation and pricing.
Military Deals
We are proud to salute the men and women of our armed forces and their families. Choose from two special offers. The Alpha: One Large 1-topping pizza, 4 drinks and 45 Play Points for $33.99, or The Bravo: Two Large 1-topping pizzas, 4 drinks and 100 Play Points for $57.49.
Valid for active-duty military and their dependents, National Guard and Reservists and their dependents and retired service members. Valid military ID or proof of service is required. Cannot be combined with any other offer.
Get rewarded
Get free play points when your child brings in a completed coloring sheet on your next visit!
Want More Tasty Rewards?
Join PepsiCo Tasty Rewards for FREE to enjoy exclusive coupons, a chance to win CASH prizes, and more from your favorite PepsiCo Brands!
*Based on November 2022 data. Represents the number of game plays at Chuck E. Cheese that our typical guests experience with All You Can Play. Actual number of game plays varies and depends on the amount of time between guest plays and the games selected.